Generating quality business leads without a preexisting relationship is a challenge, especially in the B2B services world. That's why so many enterprise sales begin with a relationship, or the next best thing, a referral (i.e. an indirect relationship).
When choosing between service providers, as opposed to physical/digital products, the evaluation process is never as impartial as we pretend. It's simply human nature to give money to people we know and like. You won't find an experienced B2B sales pro who says otherwise.
So, if it's a relationship we need, lead generation (which is by nature impersonal) has to simulate the characteristics of a relationship, namely trust. There is no better way to establish trust than to share what other people have said about you and your work. Who cares what you say about yourself? 10Pearls is a "world-class development partner." Is it true? Yes, but you wouldn't believe us unless someone else agreed…nor should you.
Every bit of information you read about a given company on their own website is curated by the marketing team, except verified customer reviews. Even the self-published testimonials on a corporate website are often curated and rubber-stamped. That's why we need authoritative business directories like Clutch now more than ever. Clutch helps service buyers quickly evaluate companies and see what real customers are saying about them. You can also see portfolio samples – allowing a company's work to speak for itself.
At 10Pearls, we all but insist that prospective customers speak with current customers and see our previous work. It's the only way to build a partnership from scratch, and partnership is the central modality of our co-creative model. So let's look at one example.
In a recent review, featured on Clutch, we built a software platform that supports the Artificial Intelligence (AI) capabilities of our partner, Inference Analytics, including integrations with the third-party app of one of the largest players in the healthcare space. The project exceeded customer expectations and they were happy to say so.
"I would argue that [10Pearls is] second to none in regard to their level of quality and diligence, especially for startups and technology companies like ourselves. They were the right partner. I wanted someone I could trust and who could deliver complicated projects."
— CEO, Inference Analytics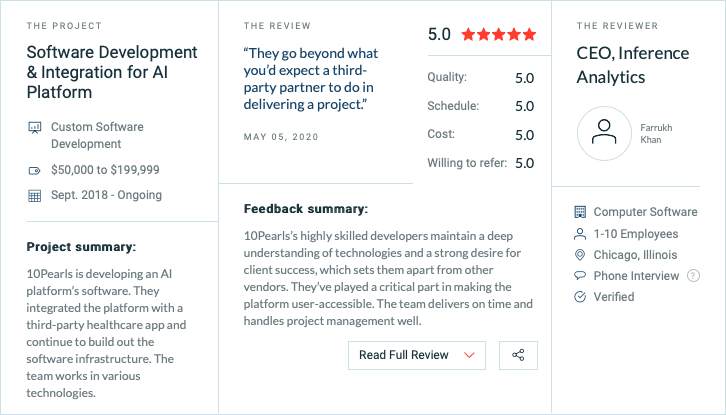 Reviews like this go a long way, so we're thankful to Inference Analytics for taking the time to share their 10Pearls experience. We would also be remiss if we didn't also thank the teams at Clutch and TheManifest for working hard to verify this and other customer reviews.
We've also received high marks for our work with:
Platform development for products in the healthcare industry

Development for AI-enhanced edutech software

Customer service portal design for a financial services firm
If you want more information about partnering with 10Pearls on your next development project you can connect with us here. Our product development specialties include healthcare, education, technology, financial services and more. We would love to build something together.